Posted on December 2, 2013 | No Comments Tweet
Following the release of their brand new single "The Batlle For Clear Sight" on 14th October 2013, Larry and His Flask are back on our shores to win over yet more hearts and minds of the good people in Europe and the UK throughout December (see tourdates here or on underneath poster).
The five-piece from Oregon, USA who supported Frank Turner and The Sleeping Souls in the UK as well as playing their own headline shows earlier this year will further spread the gospel of their infectious and frenetic homespun bluegrass/anarchic rock.
Larry and His Flask are a high energy, five piece band that have incorporated many facets of Folk, Punk, Gypsy Jazz, Bluegrass, Soul and Brass band Music to create their very own unique brand of rock and roll. Some people call it folk-punk, some people call it down right wild. But no matter what you call it, their live show is one to be seen and heard!
Posted on November 28, 2013 | No Comments Tweet
It's the end of the year, Winter is coming and with that the cosiness and fireplace stories. What fits in better than some sweet soul music? That's what Jeff Hershey & The Heartbeats must have thought as well. He decided to release a Christmas 7″ single and come to Europe to warm our souls in these cold days.
Their tour kicks off tomorrow in Den Haag and will go through France, Spain, Italy and Germany. Find all tourdates underneath the poster.
Tourdates:
2013.11.29 Den Haag (NL) @ Supermarkt
2013.11.30 Bordeaux (FR) @ Le Comptoir Du Jazz
2013.12.01 Irun (ESP) @ Tunk
2013.12.02 Madrid (ESP) @ Wurlitzer Ballroom
2013.12.03 Cadiz (ESP) @ Supersonic
2013.12.04 Orihuela (ESP) @ Auditorio La Lonja
2013.12.05 Barcelona (ESP) @ Marula Cafe
2013.12.06 Vitoria (ESP) @ Helldorado
2013.12.07 Leon (ESP) @ Purple Weekend Festival
2013.12.08 Vigo (ESP) @ La Iguana Club
2013.12.09 Burgos (ESP) @ Estudio 2
2013.12.10 Nimes (FR) @ Le Bada Bing
2013.12.11 Trento (IT) @ Al Porteghet
2013.12.12 Cesena (IT) @ Sidro Club
2013.12.13 Karlsruhe (DE) @ Alte Hackerei
2013.12.14 Hannover (DE) @ Glocksee
2013.12.15 Enschede (NL) @ NiX Bluesclub
Posted on November 25, 2013 | No Comments Tweet
The Canadian noisecoretrio METZ were one of the highlights of last month's Hit The City in Eindhoven. This week they will end their month-long European tour and they will return to The Netherlands for two more shows: Vera, Groningen (Nov-29th) and Le Guess Who?, Utrecht (Nov-30th).
METZ play loud. With a no-nonsense mentality, they live up to the old saying "if it doesn't fit in a van, it's not worth bringing". Okay, that might not actually be an old saying, but at least it holds up for METZ. It's one of those bands that, without even trying, reminds you that being in a band is about playing music with the highest levels of energy and devotion possible, leaving nothing but a trail of dropped jaws in their wake. With just a guitar, bass and drum kit they have devoured basements, skate shops, clubs, and festivals with relentless force.
"The ten songs of their debut album still sound mercilessly hard and intense, with whipping breaks that are as effective as with the release a year ago. In fact: it's clear that this album is full of rock-hard 'hits', performed better than ever. Meanwhile, the three totally go all the way in a packed, hot Rambler and the low ceiling gets hit by the guitar necks regularly. Spectacularly good! And now, get us that second album soon.." – Kicking The Habit
Posted on November 21, 2013 | No Comments Tweet
This weekend The Urban Voodoo Machine will be back in the Benelux to start off their European tour. The kick-off of this tour is in Maison du Peuple, Brussels this Friday and on Saturday will close the Trasher stage at Speedfest.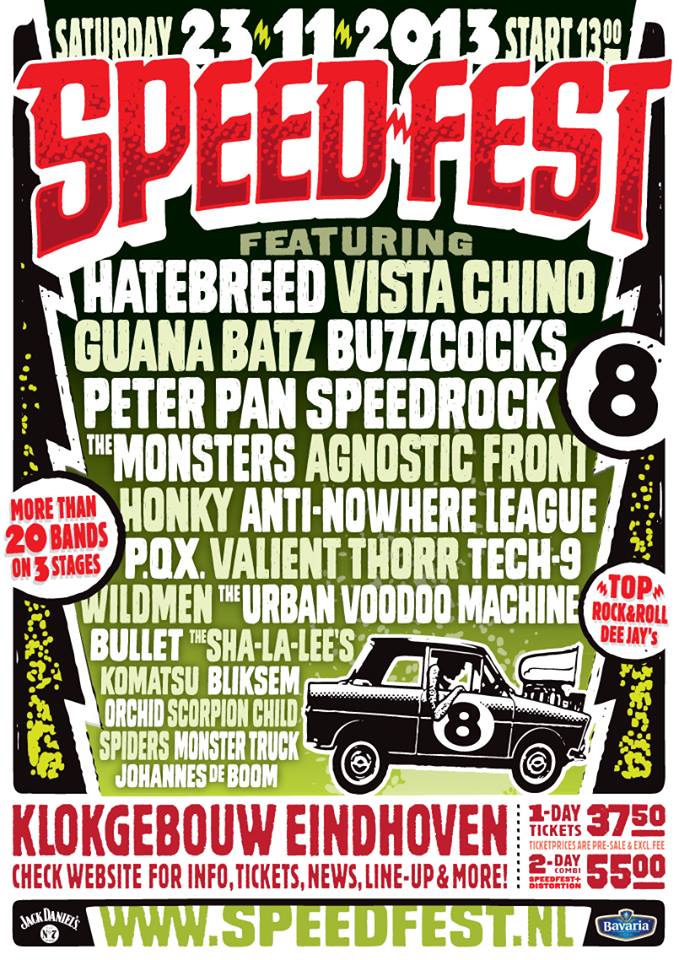 For this tour they will release a 7″ with the songs "Help Me Jesus" and "Heroin (Put My Brothers in the Ground) ". Both songs where recorded featuring Dr. Feelgood's Wilko Johnson. These two upcoming dates are also the last Urban Voodoo Machine dates of 2013 overhere. Next year the band will be back with their third album "Love, Drink & Death" that's on it's way. More news soon!
Posted on November 19, 2013 | No Comments Tweet
Currently Maison du Malheur are in the midst of their second clubtour of this year. These gents from Amsterdam have been privileged to play a lot last year. At a packed Lowlands. A full upstairs and full main room of Paradiso. All over the world in cinemas and on television with the Heineken campaign. North Sea Jazz. Main stages at Zwarte Cross and Into The Great Wide Open. Many, many festivals and clubs. 105 shows and counting this year. This all started with a few good show at Noorderslag, and two years in a row brutal street at Eurosonic.
Today we're happy to tell you that on January 17th 2014 Maison du Malheur is to perform an official showcase at Eurosonic!
In 2014 the band's focus will lay mostly abroad. The first tour in Germany is already planned and interests out of Italy, Austria, Belgium, France and Luxembourg is penciled in the calender. This showcase at Eurosonic is very welcomed to explore even further.
Over the last months a great "aftermovie" film has been made of Maison du Malheur "on the road":

more news »